Vacaville pulls ambulance from service due to staffing shortage
Image
A staffing shortage has prompted the Vacaville Fire Department to temporarily pull one of the city's five ambulances from service.
The situation impacts Medic 72, the ambulance housed at the Vacaville Fire Department station on Ulatis Drive, which covers a core portion of the city.
In an interview on Tuesday, Vacaville Fire Department Chief Kris Concepcion said other ambulances will provide emergency services in place of Medic 72, adding that he was confident in the agency's ability to respond to localized emergencies as well as large-scale incidents throughout the region.
In the event of a local mass casualty incident, Concepcion said the fire department will utilize a mutual aid system that will tap personnel, equipment and other resources from neighboring agencies.
"It shouldn't have an effect on any mass casualty incident," Concepcion told Solano NewsNet. "If our system becomes overwhelmed, and the incident is beyond the capability of our resources, then we will rely on mutual aid."
The decision to pull Medic 72 from service was first reported by the Vacaville Reporter newspaper last week. Shortly after the story was published, the local union representing Vacaville's firefighters issued a statement characterizing the staffing shortage as an ongoing crisis with no end in sight.
The union did not challenge Concepcion for his decision to pull Medic 72 from service, but instead said it was a byproduct of burnout among the agencies firefighter-paramedics.
"While we have long battled against reducing our service levels, it is hard to withstand when our members are beginning to break," Matt Moreno, the president of the Vacaville Firefighters Association Local 3501, said in a statement. "Our paramedics alone are averaging over 96 hours per week while being forced to work the extra shifts."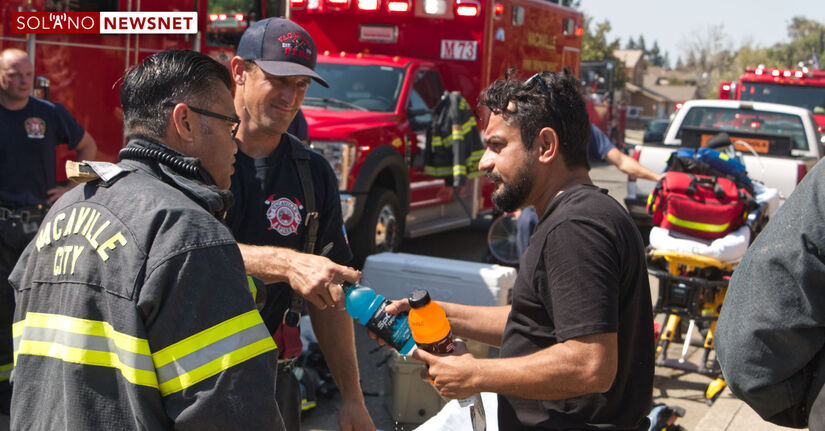 Moreno said paramedics have tapped into mental health resources and worker's compensation benefits at an increasing rate, adding that there was a direct correlation between the strenuous demands of the job brought on by the staffing shortage and the uptick in firefighters and paramedics using health benefits and taking leaves of absence.
The unusually high demands of local firefighters and paramedics have created a challenge for the agency's recruitment efforts.
"We have experienced a record low number of applicants in our latest recruitments," Moreno said, adding that just two candidates were lured from a recent nationwide recruitment effort.
Concepcion affirmed the strenuous nature of the job and its potential effects on firefighters and paramedics.
"It comes at an extreme cost," Concepcion said. "Firefighters see some of the worst things that no individual should see. If there's no support for them, as far as mental health resources, that can be very burdensome and could cost someone their career."
But Concepcion said those who take a chance on the Vacaville Fire Department will be paid a livable wage, with the starting annual salary around $102,000. The job also comes with robust benefits, as well as the support of colleagues and the community.
"It's a great job, and it pays very well," Concepcion said. "You'll never get rich doing it, but the agency that you work for will take care of you."
At the moment, the agency has 13 vacancies, but some of those positions are expected to be filled by new graduates from the fire academy. The city is actively recruiting for five new firefighter-paramedics, with the application window open through the middle of next month.
"Every day that a firefighter works, there's a high probability you will be saving somebody's life, through a medical emergency or helping out on a fire or some other emergency," Concepcion said. "Our job is to make a person's worse day in their life better for them."
As for Medic 72, Concepcion said some firefighter-paramedics who are on medical leave could return to work by the end of the month, and if that happens, the ambulance will likely be placed back into service by July.