Man arrested, CalTrans worker killed in hit-and-run on I-80 near Vacaville
Image
A man has been arrested in connection with a hit-and-run crash that killed a California Department of Transportation (CalTrans) worker on Friday.
The incident happened around 10 a.m. when a Mazda sedan struck the female transit worker along the westbound lanes of Interstate 80 near Lagoon Valley Parkway just outside Vacaville.
The California Highway Patrol (CHP) and fire medics from Fairfield and Vacaville were dispatched to the scene of the crash within minutes. The body of the transit worker was located on the side of the road, and a firefighting official declared her deceased at the scene.
In a statement sent to Solano NewsNet on Friday, a CalTrans spokesperson identified the victim as 51-year-old Quanda McGadney, a landscape maintenance worker who joined the agency in 2018.
Within a half-hour of the crash, the Fairfield Police Department received information from an eyewitness that a vehicle matching the description of the one involved in the crash was parked in front of a business along Hillborn Road.
Fairfield and CHP officers found the vehicle in front of the business and took 31-year-old Taje Jakkar Holliman of San Francisco into custody on charges of vehicular manslaughter and felony hit-and-run.
A source with knowledge of the arrest said Holliman was also wanted for assault against an officer that occurred earlier in the morning in Sacramento County. It was not clear when or if Holliman would be charged with that alleged crime.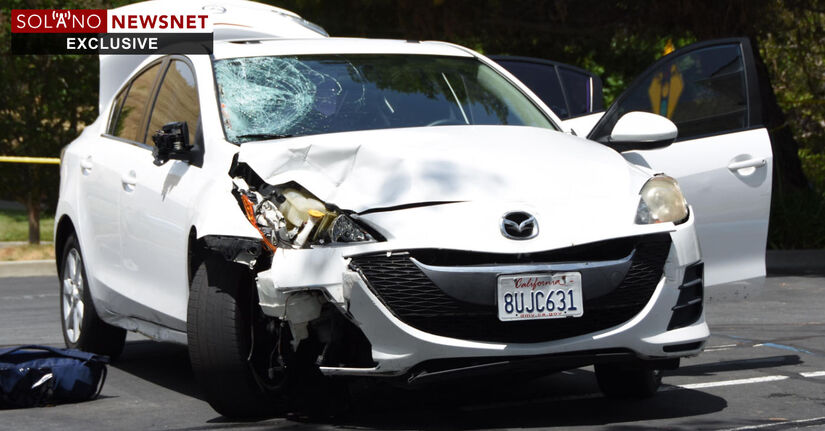 A woman who identified herself as Holliman's wife confronted a Solano NewsNet photographer near the scene of his arrest. She declined to say if she knew why her husband was arrested.
The CHP had the two "slow" lanes of the freeway closed for hours while their investigators processed the scene of the crash, causing a backup that stretched to Dixon. The lanes were re-open to traffic around 3 p.m., and traffic was flowing as normal within an hour.
Over the last few weeks, CalTrans crews have been working on Interstate 80 between Vacaville and Fairfield as the agency begins a long-term project to install toll lanes on the freeway. It was not clear if the CalTrans workers who were on the freeway on Friday were working on that project.
The fatal crash was the first time in six years that a CalTrans worker was killed while on the job.