Man who killed CalTrans worker with car gets 8-year sentence
Image
On June 3, Quanda McGadney woke up early in the morning, put on her orange safety vest and white CalTrans hat, and went to work.
She did it for her 10-year-old daughter, to provide her with a good life, and she fully expected to come from work that day, ask her daughter how her day went, eat dinner together, go to bed, and wake up the next morning to do it all over again.
But McGadney, 51, went to work that day and never came home. Taje Holliman, 31, robbed her of that opportunity when he took drugs, got in a sedan, sped down Interstate 80, drove on the shoulder of the freeway in rural Vacaville and crashed into her.
The force of the strike was so violent, pieces of McGadney's safety vest were lodged in the shattered windshield of his Mazda. Her body rolled several times to rest on the shoulder of the road. Her safety helmet landed in the middle of the freeway. And a charm bracelet that she shared with her daughter was ripped from her wrist.
Holliman did not stop at the scene, even though he must have known what he did. Witnesses said he looked back several times, but kept on going. Eventually, he parked his vehicle in front of a business in nearby Fairfield, but only to examine the damage done to his car. That's where police found him and arrested him.
On Wednesday, Holliman faced the consequences of his poor choices when a Solano County judge sentenced him to spend the next six years in state prison, followed by a two-year term in county jail. He may not have that much time to reflect on his actions — he will be eligible for parole in 2025.
No one sitting in the courtroom was happy with the sentence. Not his defense attorney, who argued that he should receive a lesser sentence based on mitigating factors that, ultimately, the judge decided didn't matter. Not the prosecutor, who asked for a maximum of nine years in custody. Not McGadney's family, friends and co-workers, who said they will forever suffer a permanent sense of loss and pain because of what Holliman did.
"This horrible crime, I can hardly say how it impacted me," Priscilla Stevenson, McGadney's sister, said in a statement to the court. "I don't know if this young man knows what he has done. It was so senseless. It didn't have to happen."
Stevenson said Holliman robbed McGadney of seeing the most-precious moments of a child's life. She will not be around to see her daughter attend prom, nor will she see her walk the state to accept her high school diploma. She'll never get to see the woman her daughter will grow to become, will never get to celebrate her daughter's first job, will never get to see her graduate from college, will never get to be a grandmother, will never get to have her daughter take care of her in her old age.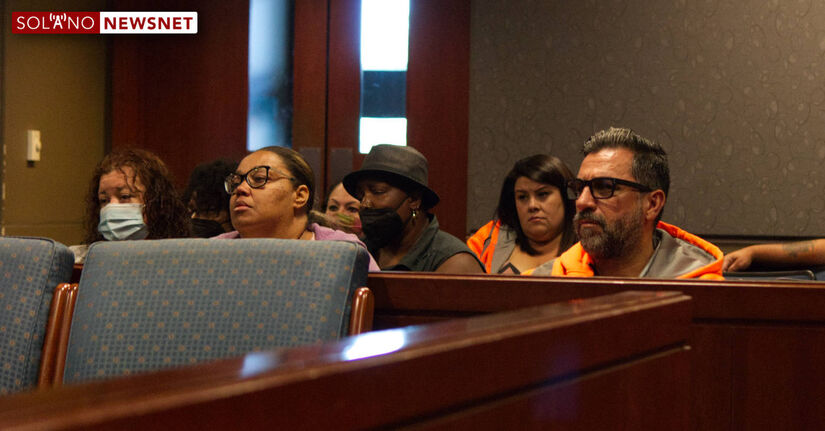 Rirginia Brooks used three words to describe Holliman's conduct: "Unfair. Selfish. Wrong."
"You're not supposed to die at work," Brooks said. "She did everything she could to keep herself safe. He got in a car he should not have been in…now we are left to pick up the pieces."
Brooks called Holliman's prison sentence a "short-term consequence for a long-term burden."
"We will never stop hurting again," Brooks said. "He needs to feel it. He needs to know that he made multiple choices that could have been avoided."
Before handing down the sentence, Solano County Judge Carlos Gutierrez acknowledged that McGadney was not the only victim of Holliman's crime, that the people who loved her were victimized by his poor decisions, too. His choice to keep driving, instead of stopping at the scene of the crash, was the primary reason why he was in the courtroom under those circumstances, Gutierrez affirmed.
"We have a 20-minute period between the [crash] and the arrest," Gutierrez noted. "If the defendant had stopped, help might have arrived sooner."
Instead, police had to split their attention between securing the scene of the crash for paramedics and investigators, and locating Holliman after he decided to flee. In a pre-sentencing report, it was revealed Holliman told police he thought he hit a guard rail, but Gutierrez said that wasn't supported by eyewitness statements.
"Witnesses said he looked back and forth after the crash," the judge said. "I think it is totally non-believable that he didn't know he hit someone."
But Gutierrez gave Holliman credit for accepting a plea within weeks of his charges. He still faces potential criminal charges related to a separate incident earlier in the day in Sacramento County, according to two sources who spoke with Solano NewsNet on condition of anonymity.
Prior to sentencing, Holliman's defense attorney apologized on behalf of her client. Gutierrez said he would have preferred that apology to come from Holliman himself. But the defendant chose only to speak to his attorney before and after the hearing. Throughout the actual proceeding, he remained silent, with his eyes locked on the judge who decided his fate.
The sentence made one thing certain: Someday, Holliman will be a free man, one who — maybe — will lead a different, better life. McGadney's family and friends aren't sure he can change, but are hopeful he will. Still, they feel a sense of betrayal that Holliman didn't face a tougher punishment. After all, he forever robbed them of their loved one.
"Where's her justice?" Stevenson asked.