Attorney says Vallejo quietly paid to replace bent badges
Image
A Solano County attorney says the City of Vallejo knew about a controversial badge-bending ritual by officers involved in fatal shootings because it quietly replaced those badges for years using taxpayer funds.
At the Vallejo city council meeting on Tuesday, Solano County Public Defender Nick Filloy says Berkeley-based Ed Jones Company furnished invoices to him that showed the City of Vallejo had sent badges for repair or replacement to the company as far back as 2013.
In some cases, the sterling silver badge that is standard issue to Vallejo officers was replaced with a cheaper chrome badge, Filloy alleged, adding that nearly all of those replacement badges "were for offices involved in shootings."
During his comments, Filloy held up a USB flash drive that he said contained copies of the invoices for Vallejo Mayor Robert McConnell and others to review. A city official took the flash drive from Filloy and said copies of the data on it would be provided to the mayor and council members.
The badge-bending ritual among officers involved in fatal shootings became public knowledge two years ago in a blockbuster story published by the not-for-profit news organization Open Vallejo.
Several months after the story was published, the City of Vallejo hired former Sonoma County Sheriff Robert Giordano to conduct a review of the matter. On Tuesday, Filloy said Giordano admitted to him that he never reviewed invoices connected to the badge-bending ritual.
"His explanation was that he thought the police officers would be smarter than to leave a paper trail through the department," Filloy said.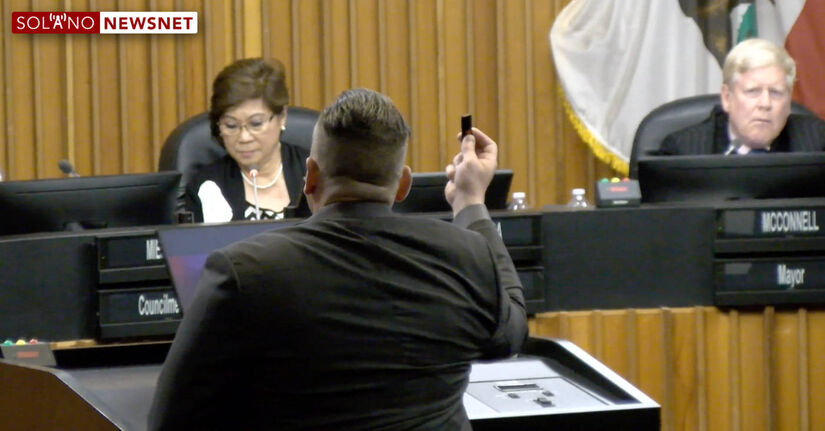 The Vallejo Police Department has been under public scrutiny over the last several years over fatal officer-involved shootings involving several members of the community.
During the city council meeting on Tuesday, dozens of community activists demanded local officials there hold the police department accountable, fire officers involved in fatal shootings and released a much-anticipated report linked to an outside investigation into the badge-bending ritual.
Among the activists who attended Tuesday's meeting were Ashley and Michelle Monterrosa, the sisters of 22-year-old Sean Monterrosa, who was fatally shot by a Vallejo police officer during a period of civil unrest two years ago.
The officer involved in that shooting, Jarrett Tonn, is still employed by the department, despite an internal review that showed his use of deadly force in the Monterrosa shooting was excessive and unjustified. (A separate but related probe conducted by a hearing officer earlier this year determined otherwise and urged the police department not to fire the officer.)
"You guys are adding to the cycle of trauma," Michelle Monterrosa said during a public comment period at Tuesday's meeting. "It's hard to get up here and not cry, because this city has brought so much pain upon my family."